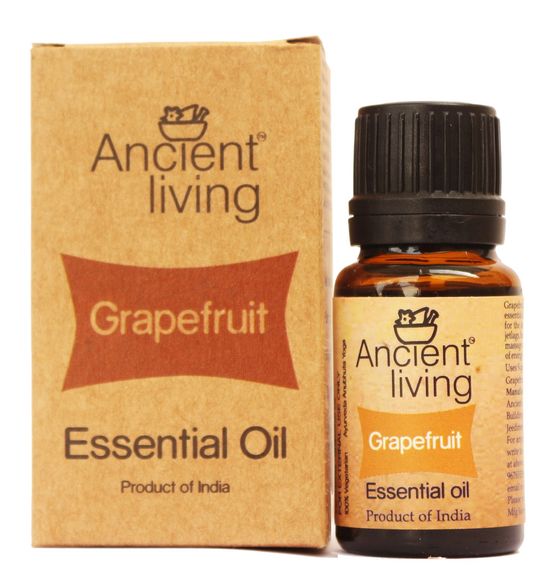 Organic Grapefruit Essential Oil -10ml
Shipping Charges::
Rs 70.00
BRIEF USES OF GRAPEFRUIT OIL
Grapefruit oil possesses fresh, citrusy, invigorating aroma
Relaxes and uplifts mind with its joyful aroma
Helps reduce psychological and physical fatigue
Wonderful for oily skin concerns
Enhances hair growth and derails hair fall
Diffuse or apply topically to help clear congested areas
Pure Grapefruit Essential Oil(Citrus paradisi)
HOW TO USE Grapefruit OIL: SKIN | HAIR | HEALTH
Directions for use
Diffusion: Use three to four drops in our Ancient Living electric vaporizers or candle vaporizers of your choice
Internal use: Do not take internally unless consulting with a qualified and expert practitioner
Topical use: Must Dilute with Ancient Living Almond Oil to minimize any skin sensitivity. Apply one to two drops to desired area
Grapefruit oil alternative applications
Grapefruit Oil[1-2drops] can be used with shampoos, conditioners and hair oils for hair care
Grapefruit Oil[3-4drops] can be added to bathing water to have a relaxing & rejuvenating bathing experience. It also facilitates soothing effect on the skin
Grapefruit Oil[1-2drops] can be blended with other massage oils or with creams and lotions for better results
Grapefruit Oil[5-10drops] can be added to 2 cups of water to form an amazing spray for cleaning and freshening purposes
Warning: If you are pregnant, nursing, or under a doctor's care, consult your physician for proper use
Grapefruit Essential Oil -The richness of vit. 'C'
Health benefits of grapefruit oil:

Grapefruit's fresh, citrusy, invigorating aroma is sure to uplift the mood and please the senses thereby providing peace and happiness to your mind. Known for its energizing and invigorating effect, Grapefruit oil helps to reduce spiritual and physical fatigue when inhaled its joyful aroma. For efficient results, try using our earthy, beautiful aroma electric vaporizers which has a dimmer to control the intense of aroma and brilliance of light.
Grapefruit perfect benefits for oily skin:

Definitely you have got a reason to choose this oil for its purging and purifying benefits. When applied topically, Grapefruit removes excess oil, dirt and also other impurities without peeling off your skin's moisture content thus helps to prevent acne. Since our essential oils are highly concentrated, be cautious to blend well 2 drops of oil with 10ml of any carrier oil before apply to the skin. We recommend you to dilute with Ancient Living Rose Water for better results. Our rose water is extracted from fresh rose petals and used as skin cleanser and toner. Alternatively, there are other carrier oils sesame, jojoba or almond. Adding few drops of Grapefruit Essential Oil during bath will make your skin healthy and glowing. 
Attribute Brand
About Ancient Living
Drawing inspiration from Mother Nature SRINIVASA INDUSTRIAL & AGRO PRODUCTS (P) Ltd under the brand name ANCIENT LIVING manufactures pure natural health care, hair care and skin care products based on Aromatherapy and Ayurveda. We at Ancient Living are more passionate about solving your health problems in an organic way and create awareness about the underrated value of various Indian medicinal herbs used in the ancient period.
0